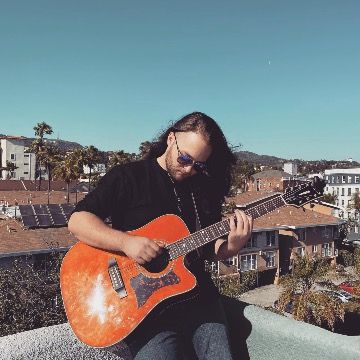 GALEN ABTS
LEAD VOCALIST
Moving from rural Wisconsin to California in 2017, Galen Abts came to Los Angeles to attend the Musicians Institute as a vocal student, and pursue a career as a professional singer. Since then, Galen has graduated from the Musicians Institute with the "Outstanding Performer" award, was hired by the school as a vocal TA and has since been promoted to vocal instructor. He has also started his own hard rock band Illicit, which performs at legendary venues such as the Whiskey a Go Go, The Viper Room, and Hotel Cafe in Hollywood and West Hollywood, and has released a self produced, three song, live EP "Live From the Institute" and a four song, studio EP "The Wheel" which was produced by Grammy Award winner Francis Buckley. Through the Illicit brand, he has also created and is the executive producer and editor of the Illicit Media Podcast. A podcast which covers everything from current industry news to the influences and approach of the musical guests they have on each episode. He has also started the 90's radio rock tribute band Shock Proof which performs all over the southwest US, is a regular sub for multiple top 40 cover bands, and has performed as a background vocalist for rocker Jesse "Blaze" Snider and neo soul artist Su Isaac.

Galen started playing music at the age of ten when he began taking guitar lessons, and playing trombone in his middle school band. Since then he learned to harness his voice in multiple styles such as rock, metal, soul, funk, r&b, and pop, and has picked up the piano as well. His earliest influences include classic rock bands such as Led Zeppelin and Pink Floyd, 80's hair bands like Def Leppard and Motley Crue, and 90's grunge bands such as Pearl Jam and
Soundgarden. He has also more recently found a deep love for thrash, groove, and nu metal like Anthrax, Pantera, and Lamb of God, and funk/soul classics such as James Brown, Earth, Wind & Fire, and Parliament-Funkadelic.

Currently Galen is working at Musicians Institute as a vocal instructor and as a session singer. He is also writing new material for Illicit and is currently recording for his solo acoustic folk album which will also be produced by Francis Buckley and will be released at the end of 2023 under the name Galen Keith.